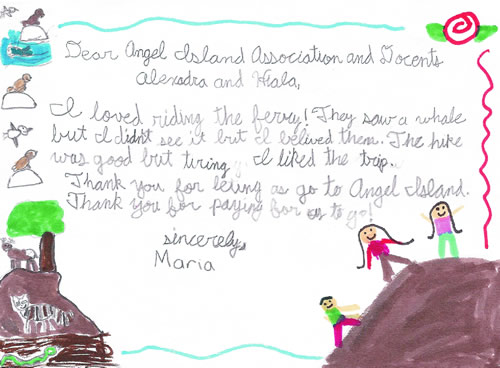 Learning opportunities extend far beyond the classroom, but schools are finding it more and more difficult to fund student trips to museums, historical sites and cultural organizations.  Field trip grants help give children these unique, firsthand learning experiences.
Thanks in part to generous donations from the community, AIC has awarded "scholarships" to qualifying low-income schools to visit Angel Island State Park for educational purposes as well as to participate in volunteer service opportunities in which they help to maintain and restore this unique environment.
At the average cost of $1,500 per group, to date, funds received have made visiting possible for over 1,300 students and their 200 chaperones. Below is a list of recently awarded "scholarships."
River Glen Middle School (San Jose), 58 students & 20 chaperones
Commodore Sloat Elementary (San Francisco), 63 students & 12 chaperones
Gordon J.S. Lau Elementary (San Francisco), 31 students & 4 chaperones
Hercules High (Hercules), 100 students & 15 chaperones
The outcome of this program is an increased number of young Bay Area citizens who not only gain awareness, appreciation and connection to nature and history, but also contribute to restoring, maintaining and creating future support for one of the Bay Area's most treasured cultural and natural resources.
These opportunities would not be possible without the communities financial support of Angel Island Conservancy.  Thank you!