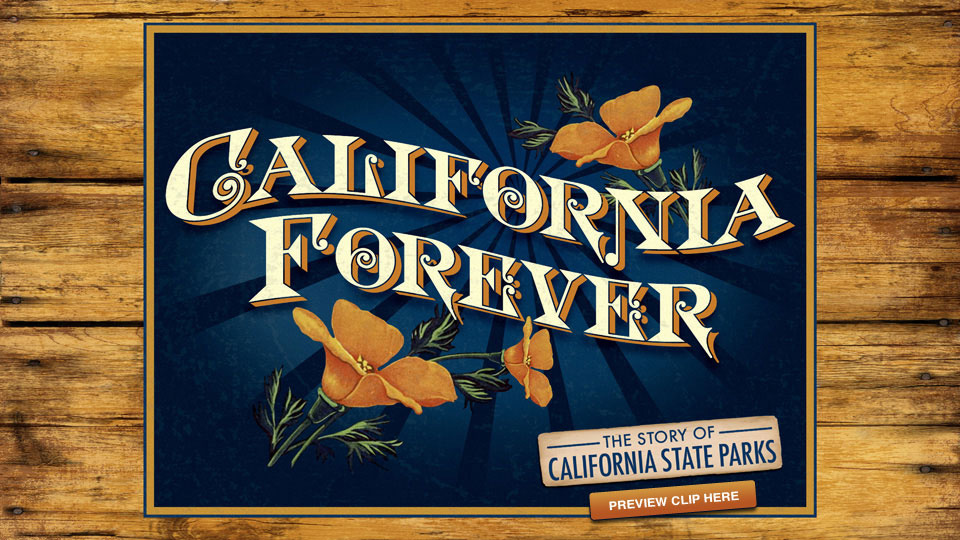 For the last three years Backcountry Pictures has traveled far and wide to produce a timely documentary about California State Parks. Backcountry is pleased to announce that CALIFORNIA FOREVER has been accepted by PBS for national broadcast this Fall. The two, one-hour programs are being presented to PBS by KQED, San Francisco.
Backcountry was inspired to make the film when they read about the proposal to build a six-lane toll road through San Onofre State Beach in Orange County. David Vassar, Co-founder of Backcountry Pictures, pointed out that, "If we are having a "reasonable discussion" about building a freeway through a state park, then there is a serious disconnect." David thought it was the right time to make a television program that would remind people of the priceless legacy that state parks protect and to celebrate the individual citizens who worked so hard to preserve them.
After nearly a year of scouting and writing, Backcountry began shooting in October of 2009. Their most difficult decision was how to narrow down the list of 278 parks. They eventually decided to highlight the natural preserves and historic sites that best represent the crucial turning points in the history of California State Parks. Beginning in Yosemite in 1864, the story moves through redwoods, coastal lands, deserts, the Sierra Nevada, and yes,it also includes our beloved Angel Island State Park.
After 61 days of shooting in 47 different parks over two years, and months of editing, they completed a 75-minute film, brought the program to KQED thinking they would be interested in presenting it to a California audience. KQED recommend to cut it down to a PBS hour and broadcast to a national audience. Backcountry was delighted by their enthusiasm, but after discovering the embarrassment of riches held in California State Park story, Backcountry feared a single, one-hour episode would not do the story justice. KQED agreed, and off they went to produce Episode Two; a collection of contemporary short stories that illustrate the challenges that parks are facing now that will become common in the future.
As of today, Backcountry has completed a 75-minute film that is enjoying screenings in festivals, as well as two, one-hour episodes, that will screen in sneak previews and film festivals before airing on PBS this Fall. Backcounry is still raising funds to conform the program to the PBS "template" as well as funds for promotion and publicity. They are now well on their way and shared with us the excitment of their journey.
We also urge you to share this news and the website for CALIFORNIA FOREVER with all your family, friends, and colleagues. With the imminent closures scheduled for this summer, our treasured California Parks are further in danger of abandonment.