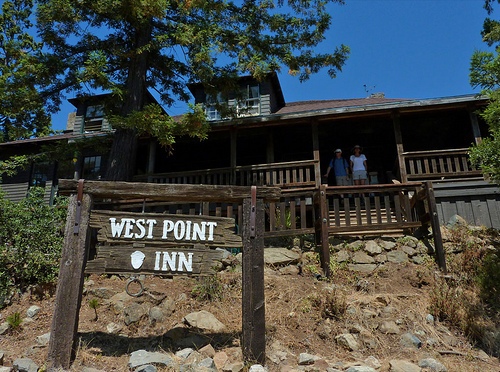 Two co-bidders – Mark & Patty Thompson and Skip & Julie Spaulding – and their group of lucky guests realized the dream of taking over Mt. Tam's historic and charming West Point Inn and its cabins for the night.
Secluded among the trees on the upper south slope of Mt. Tamalpais, the Inn was built in 1904 and was once a stopover for passengers who rode the "Crookedest Railroad in the World" up from Mill Valley to the top of the mountain. This rustic inn boasts panoramic views sweeping from the Sierra to the Pacific Ocean, to San Francisco and beyond.
Living the life of VIPs, the group started their stay relaxing with a glass of wine on the veranda and enjoying the stunning views while chef Jessie Boucher of Jessie et Laurent, the Bay Area's supreme in-home dining service, prepared and served a most memorable gourmet meal paired with the exquisite, award-winning wines of Crocker & Starr, crafted by Pam Starr on the historic Crocker Estate.
Watching the sunset over the Pacific Ocean, the group played games and took in the breathtaking view from the cozy 'members only' parlor, then later played horseshoes by the light of the full moon before retiring to their cozy rooms and secluded cabins.
The next morning the group was treated to continental style breakfast watching the sun rise over our beloved Angel Island State Park.  After the group was fortified with breakfast, they were lead on a memorable hike of Mt. Tam by Angel Island Volunteer and hiking enthusiast, Norm Wolff.  And for this fortunate group, the weather was stunningly beautiful from start to finish!
This special overnight stay was won at last year's Angel Island Conservancy's (AIC) 6th annual Angel Lights Countdown Benefit .  You, too, can experience an adventure like this and others – all you have to do is attend AIC's 7th Annual Angel Lights Countdown Benefit (save the date – November 29th) where attendees will have the rare opportunity to bid on experiences like this one!
---