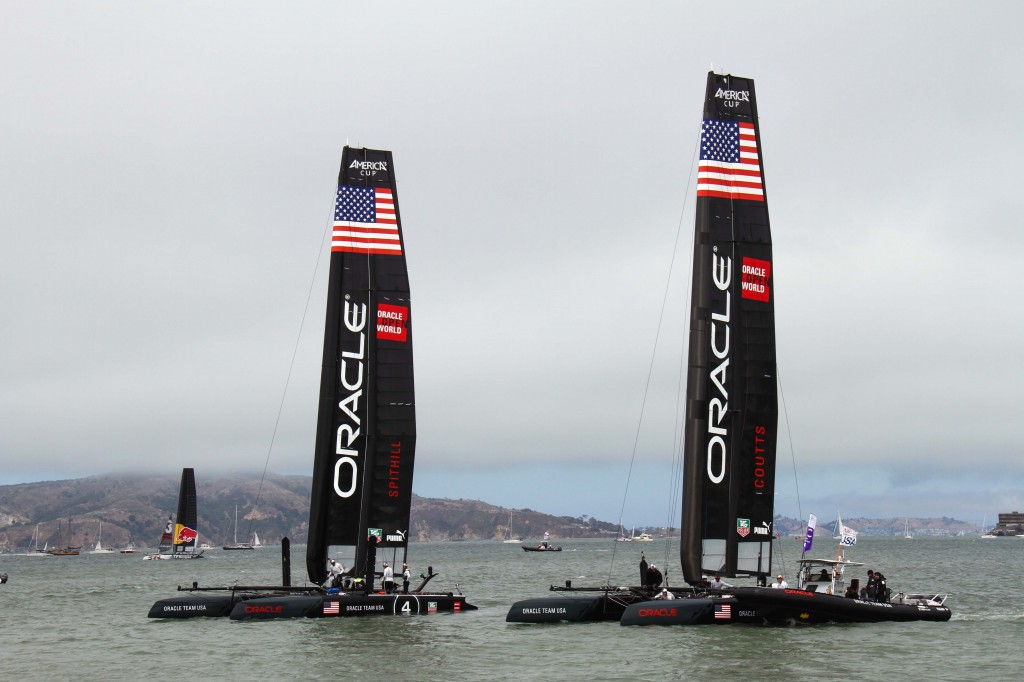 Two co-bidder's – Jane Weil & Rita Fink – and their group of lucky guests experienced the fabulous combination of a picnic lunch from an exclusive vantage point on Angel Island and "front row seats" for the America's Cup trials.
Hosted by Angel Island Conservancy (AIC) Board members Aimee Brown, Lisa Klairmont and Lisa's Husband Harold Kleiderman, our donors and their guests enjoyed an unforgettable adventure starting with sailing to the island aboard Lisa and Harold's boat, followed by a tasty picnic at the"Authorized Personnel Only" and very scenic Point Blunt. Lunch was generously catered by the Cove Café and accompanied by a selection of various donated wines. A highlight of the event, the group viewed the trials from an 'on the water' vantage point aboard Lisa and Harold's boat with experienced 'color' commentary by their friend Ron Young, who has been involved in two previous America's Cup challenges.
Jane Weil related "All of the pieces of our sail/picnic/boat race fit together perfectly and we all had a great time. Having Ron along to educate us was a special treat."
The event was a success thanks to the support of Aimee Brown, Lisa Klairmont & Harold Kleiderman, AIC Operations Manager Jacquie Klose, Angel Island Superintendent Amy Brees, volunteer Dianna Lawrence and park staff Gary & Mary Jo Cogburn.
This special event was won at last year's Angel Island Conservancy's 6th annual Angel Lights Countdown Benefit. You too can experience an adventure like this and others – all you have to do is attend AIC's 7th Annual Angel Lights Countdown Benefit (save the date – November 29th) where attendees will have the rare opportunity to bid on experiences like this one!
---