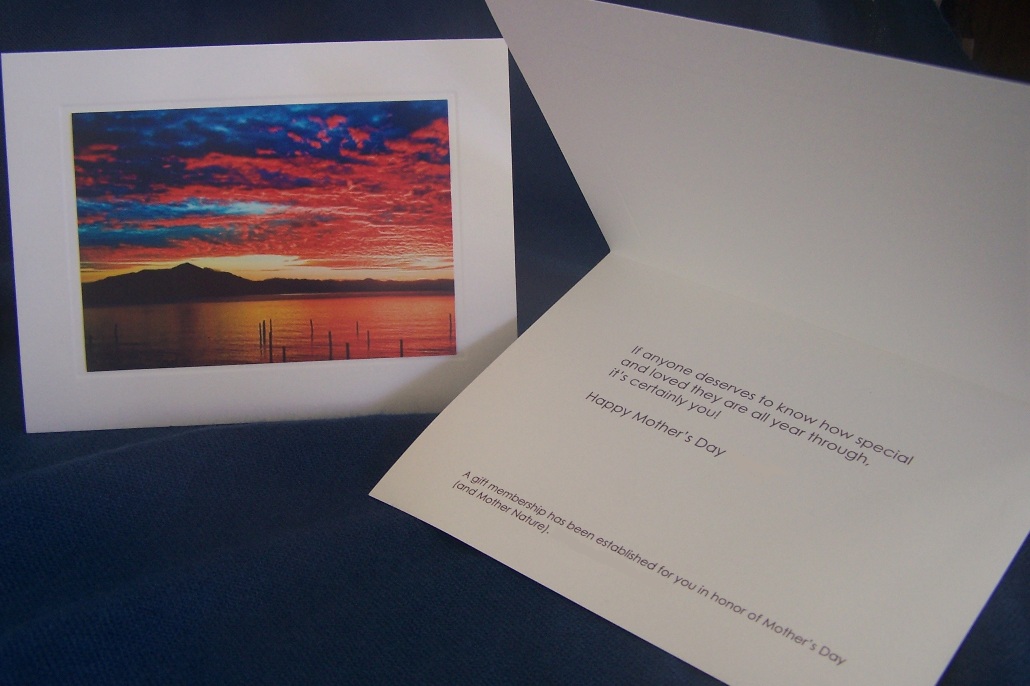 It's unfortunately too late to give your Mom this cool gift this year – but keep it in mind for next year!
A great way to celebrate Mother's Day & give back to Mother Nature – they both deserve it! This is something cool and different that your mom would love. A gift that allows you to honor her and give back. The good news is that you could give your mom something that will make her happy and will benefit Mother Nature too – an Angel Island Conservancy gift membership! *
Next year you can show up on Mother's Day with a gift in your hand, as well as a story about how it will help to care for Angel Island. And, if you can't make it to Mom's, no worries, we'll mail her a cool card! **
A well thought-out gift that gives back, that will honor her love for the natural world, and respect it too. What could be better?!
Guess your mom must have raised you right!
* One-Year Membership.
** Sentiment in the card reads "If anyone deserves to know how special and loved they are all year through, it's certainly you! Happy Mother's Day! An Angel Island Conservancy gift membership has been established for you in honor of Mother's Day (and Mother Nature)."
PLUS
Angel Island Tiburon Ferry
will give the first 100 mothers to board on Mother's Day a FREE Sunset Cruise Ticket to enjoy during the 2013 Season and
Angel Island Company
is offering a FREE Tram tour to all Moms purchasing a child tram tour ticket on Mother's Day, Sunday, May 12, 2013.
---
Click on one of the "Join" level buttons below to make a secure PayPal payment. If you don't have a PayPal account, you can still use their service to pay by credit card.
And be sure to give us your Mom's name and address in the "shipping address" option when checking out!
$35 – We'll send your Mom a cool Mother's Day card telling her what an awesome thing you did in her honor! That'll knock her socks off!
$50 – Along with sending your Mom a cool card, she'll also get a clever bandana sporting a map of Angel Island! How neat is that?!
$100 - We'll send your Mom 2 Angel Island Tiburon Ferry round-trip tickets so she can head out to the island, along with that cool card we keep talking about! Don't miss the boat!
$250 – How about 2 Angel Island Tiburon Ferry round-trip tickets, the groovy "Wildflowers of Angel Island" guidebook, and of course the cool card! Will your Mom dig this or what?!
$500 – This is sure to make you Mom's favorite, if you're not already! 2 round-trip Ferry tickets from Tiburon, the "Wildflowers" guidebook, VIP island tour for 2 (date mutually agreed) and that oh too cool card!

Memberships can also be purchased by calling (415) 435-3972 or fill-in this printable Membership Form and send by mail or fax.
All member levels receive a 10% discount at Angel Island Conservancy's Information Station and the Angel Island Cafe' and Cantina.