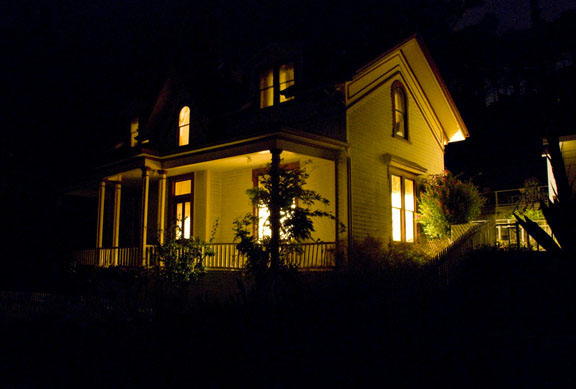 Pair one of Marin County's best restaurants, Il Davide, owned by Chef David Haydon, with the Bay Area's best kept secret – Angel Island… the result, elegantly prepared Italian cuisine in a setting steeped in charm and character.
This special evening began with high bidder Jeanne Overcashier and her guests taking a voyage from Tiburon to Angel Island's Ayala Cove. From the cove, guests were transported to Civil War-era Camp Reynolds and treated to a scrumptious array of fine wine and aperitivos (appetizers) at the historic Quartermaster's Warehouse, positioned right on the waterfront, directly facing the Golden Gate Bridge. The weather – "picture perfect."
Next stop…  after the glowing start at the Quartermaster's Warehouse, the group strolled up the hill for a deliziosa dinner served in the classic and festively decorated dining room at Quarters 10, the Victorian Officer's quarters. Chef Haydon treated guests to a fabulous multi-course dinner and dessert, an unforgettable array of skillfully prepared dishes, mesmerizing flavors and rich textures. Buono appetito!
Special thanks to AISP Superintendent, Amy Brees, who greeted the group; AIC Board member Aliyya Shelley Mattos and her Husband, Blake Mattos for hosting the group; AIC Operations Manager, Jacquie Klose who coordinated the event; and a special "thank you" to David Haydon, along with his assistant Molly, for creating a very deliziosa taste of Italy!
This special overnight stay was won last year at Angel Island Conservancy's 7th annual Angel Lights Countdown Benefit. You, too, can experience an adventure like this and others – provide us with your email or mailing address and we'll send you an invitation to our 8th annual Angel Lights Countdown Benefit  – where attendees will have the rare opportunity to bid on adventures like this one!
Buona fortuna!
---
Click on images to view full size
About Quarters 10, Camp Reynolds
With concern mounting over threats to the Bay Area from Confederate sympathizers and naval forces, the federal government established Camp Reynolds. Officer's Quarters 10, was first built and lived in on Yerba Buena Island, then later disassembled, barged over to Angel Island and reassembled. It was restored to its former glory by Dr. Robert Noyes and his wife Mary who spent months living in a tent on the grounds until they could stay in the quarters while they continued to lovingly restore it. Following are views rarely seen by the public.
Return to top of page