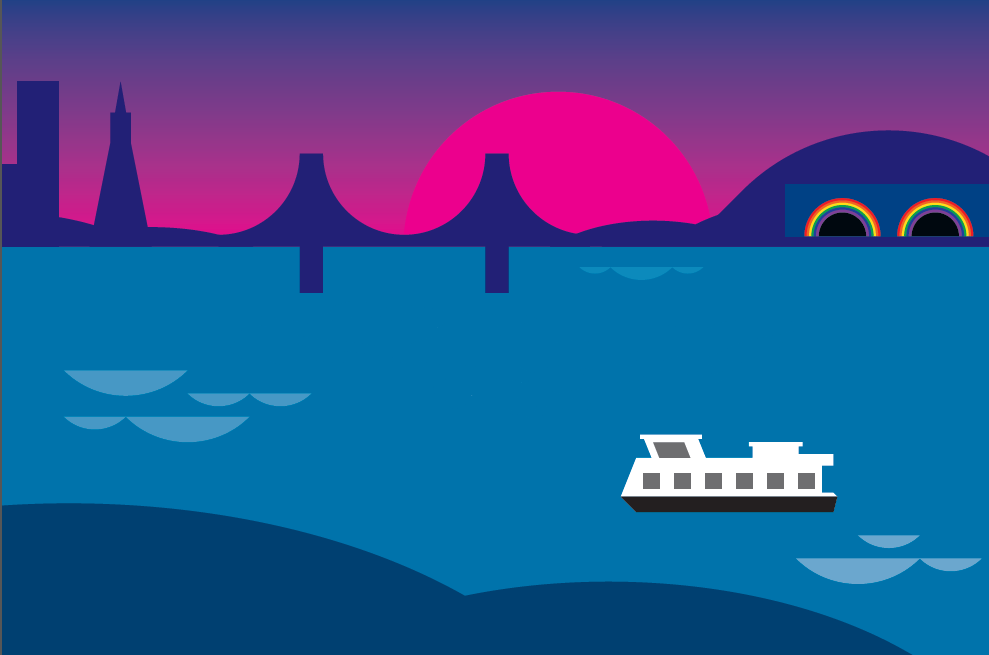 Summer Solstice on the San Francisco Bay — it doesn't get much better!
Supporters of Angel Island Conservancy (AIC) enjoyed a perfect evening cruising aboard the Angel Island-Tiburon Ferry on June 20th in support of Angel Island State Park (AISP).  Guests attending the event, "Angels on the Water," enjoyed delicious bites generously donated by Back to Earth Organic Catering and Foodniks, wine kindly provided by Hopper Creek Winery, and beer underwritten by Dr. and Mrs. Kirk and Mishi Grogan. The great sounds of live jazz by the Jeff Derby Trio and festive decorations created a perfect party atmosphere. Our heartfelt thanks to Grace and Bob Salk and Maggie McDonogh of Angel Island Ferry for their underwriting to make all of this possible!
The 150 attendees included many new friends, long-time supporters, and major donors including Tom Livermore, Donald Leonard, and Jeanne Overcashier, who reveled in the picture-postcard views of the Bay as we celebrated our beloved Angel Island.
Throughout the cruise, lucky raffle winners were awarded prizes including overnight stays donated by The Lodge at Tiburon and Waters Edge Hotel, gift cards for dining provided by The Lodge at Tiburon,  Sam's Cafe, and Waypoint Pizza, clothing by Koze,  and a diggler scooter tour adventure donated by Angel Island Cove Café.
AIC Board Secretary and AISP Docent, Linda Moore, highlighted key historic sights on the island as the boat rounded the different locations, including Civil War era Camp Reynolds, the Cold War era Nike missile site, WWI & WWII era  Ft. McDowell and the recently restored Immigration Station, with a brief docking at Ayala Cove, allowing AISP Staff to disembark to their on-island homes.   We recognized their outstanding work on and off the island with a hearty cheer farewell!
Board President Gail Dolton and AISP Superintendent Amy Brees shared the future of Angel Island as laid out in the Interpretation Master Plan, a comprehensive roadmap for developing new and improved educational programs, facilities, and recreational opportunities on the island.  Moreover, they expressed the increased need for support by the community as the Conservancy moves forward with these visionary plans.
What a wonderful kick-off to the summer season on Angel Island! AIC expects this year's "Angels on the Water" to be the first of an annual tradition. The solstice reminds us all that summer is precious and we should enjoy what we have – especially Angel Island State Park in our own backyard!
We appreciate the dedication of the entire "Angels on the Water" committee – Grace Salk, Gail Dolton, Aliyya Shelley Mattos, Aimee Brown, Linda Moore, Amy Brees, Tom Huston, Molly King, Jacquie Klose, and Lisa Eltinge – and all of the evening's superb volunteers.  Special thanks to Tessa Lee and the staff at Public Design who developed the colorful and playful graphics for the cruise, to Emily Anderson for capturing the beauty of the island and the spirit of our guests with her marvelous portraits, and "Angels on the Water" event co-chair and newly elected AIC Board Member Grace Salk, who created a fun and successful evening!
You, too, can join us at adventures like this and others – provide us with your email or mailing address and we'll add you to our announcements list!
---
Many thanks to Emily Anderson for capturing the beauty of the island and the spirit of our guests with her captivating portraits!