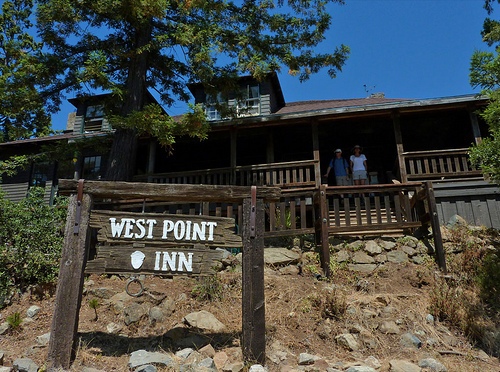 Co-bidders, Tony & Ruth Abdulmassih and Bob & Grace Salk, along with their children Bailie & Connor, and guests Mario & Anthy Donati, enjoyed the exclusive experience of taking over Mt. Tam's historic and charming West Point Inn and its cabins for the night.
Secluded among the trees on the upper south slope of Mt. Tamalpais, the Inn, built in 1904, was once a stopover for passengers who rode the "Crookedest Railroad in the World" up from Mill Valley to the top of the mountain. This rustic inn boasts panoramic views sweeping from the Sierra to the Pacific Ocean, to San Francisco and beyond.
Living the life of VIPs, the group began their stay relaxing and sipping wine on the veranda, enjoying the stunning views while chef's Jessie & Laurent Boucher of Jessie et Laurent, the Bay Area's supreme in-home dining service, prepared and served a most memorable gourmet meal paired with exquisite wines.
Watching the sunset over the Pacific Ocean, the group mingled and took in the breathtaking view from the inn's veranda before retiring to their cozy rooms and secluded cabins.
The next morning the group was treated to sunrise over our beloved Angel Island State Park and a delicious breakfast prepared by the Boucher's and Angel Island Conservancy Board President, Gail Dolton. After being fortified with breakfast, the group headed out for a memorable hike of Mt. Tam led by Bay Area Backroads and OpenRoad TV personality, Doug McConnell. And for this fortunate group, the weather was stunningly beautiful from start to finish!
Many thanks to Doug McConnell for his memorable hiking tour, Jessie & Laurent Boucher for their scrumptious gourmet meals, Gail and Doug Dolton for hosting the group (and pitching in with kitchen duty) and AIC Operations Manager, Jacquie Klose who coordinated the event.
This special overnight stay was won last year at Angel Island Conservancy's 7th annual Angel Lights Countdown Benefit. You, too, can experience an adventure like this and others – provide us with your email or mailing address and we'll send you an invitation to our 8th annual Angel Lights Countdown Benefit  – where attendees will have the rare opportunity to bid on adventures like this one!
---