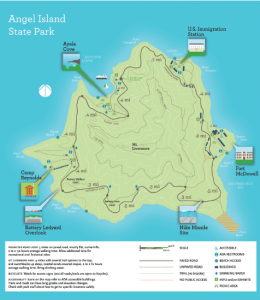 A "reprinted" article
Written by Ann Mizel
amizel@thearknewspaper.com
Permission granted by THE ARK Newspaper
It looks close enough to touch. From the windows of her Belvedere home, Azita Mujica-Beavers has a straight-on view of one of the jewels of our bay, Angel Island. It's no wonder that Mujica-Beavers has become an enthusiastic and generous supporter of the Angel Island Conservancy (AIC), the nonprofit association that supports Angel Island State Park's historical and natural resources preservation and education programs. Looking over at the island, Mujica-Beavers says, "We are so fortunate to live here — the surroundings are so fabulous. We should want to improve anything we can by giving back."
Conservancy board president Gail Dolton wrote in an email, "Azita has gone above and beyond the call of duty in her support of AIC and the work we do on behalf of Angel Island State Park. To accomplish our goals, we rely heavily on the support and generosity of the businesses and people in our community, and Azita is one of those people."
In partnership with the state park, the Conservancy has developed an Interpretation Master Plan, for the island. Among its programs, the Conservancy also provides a Student Service-Learning Scholarship Program for students from low-income areas to attend educational programs at Angel Island State Park, and funds oil spill remediation equipment and wildfire restoration and protection efforts. On December 5th, the Conservancy held a fundraising gala at Ondine restaurant in Sausalito, and Mujica-Beavers and her husband, Carl Beavers, hosted the 2013 Angel Lights kick-off party at their home. "I enjoy giving the house for good causes," Mujica-Beavers says. "The night was perfect in every way; they are supreme hosts," says Lisa Eltinge, fundraising consultant for the Conservancy. "We had spoken about how the AIC might connect more with the Belvedere community, and Azita immediately offered to host the event. Azita does not hesitate; she is a doer." "I love to create enthusiasm in others," says Mujica-Beavers, who has degrees in public relations and marketing and speaks four languages: English, Spanish, French and Farsi. "I especially like to get people to know more about art, which is my passion. There is so much art for free, right around us — at our Town Hall, our library and on free days at the museums in the city. It makes me so sad that art classes are gone at so many schools."
Art is everywhere in Mujica-Beaver's home, with mobiles hanging from ceilings, life-size sculptures scattered around and paintings of all sizes and periods on every wall.
One of her favorite pieces is an oil painting of Angel Island that her friend the late Marc Kasanin painted for an auction benefiting the Conservancy several years before his tragic death in a boating accident off the Farrallone Islands during a race in 2012.
Mujica-Beavers has been a member of the Belvedere-Tiburon Library Foundation Art Committee for three years, a committee made up of local residents who hold annual art juries to choose work for nine to ten month-long art shows every year held in the library's Founders Room.
"Azita has been an enthusiastic member of the committee," says Joan Don, the committee chair. "With her background in fundraising and organizing art exhibits, she brings a unique perspective to the committee, and we enjoy her creativity."
In her capacity as the current chair of the Tiburon Heritage and Arts Commission, Vice-Chair David Gotz says Mujica-Beavers has initiated several important projects that are underway. "Azita is a very valuable member of the commission who brings great passion and energy to our meetings," Gotz says. "Her love of art is uncompromising, and she has developed a very thorough understanding of Tiburon history since she joined the commission."
The commission holds six art exhibits yearly at the Tiburon Town Hall to showcase the talents of local artists of all ages, which brought together Mujica-Beavers and Del Mar Middle School art teacher Aaron Synder. In an e-mail, Snyder says, "Working with Azita on the commission has been amazing. Really, the whole Tiburon Heritage and Arts Commission has been amazing, but to have someone like Azita, who so whole-heartedly supports the arts, our schools and our kids, has been a great experience. "It's one thing to make art, but another to see it framed and on a gallery wall. The kids love it," he says. "With Azita, it never stopped at the scheduling of our show — she was an active participant a all levels, from set-up, to hosting and clean-up at the reception, to taking the show down. I've really felt lucky to have gotten to know her and look forward to working with her in the years to come," Snyder says.
Mujica-Beavers is a member of the Auxiliary of the Museum of Fine Arts for the De Young and Legion of Honor museums in San Francisco, and a special treat for her is the opportunity to view new exhibitions on Mondays — auxiliary meeting days — when the museums are closed. "We get private tours — an incredible reward for my work," Mujica-Beavers says. "There are approximately 120-150 members of the auxiliary from all over the Bay Area, and I'm anxious to try and find ways for the members to get to know each other better."
To that end, a few hours prior to meeting with The Ark, Mujica-Beavers had hosted a meeting of some auxiliary members. There was a plate full of cookies on the table, and the coffee was still hot. "I'm always busy with meetings, following up on things," she said.
Mujica-Beavers works especially hard on the auxiliary's Bouquets to Art fundraiser, which helps underwrite some of the museum shows, supports arts acquisitions, traveling exhibitions and educational programs, and is one of the country's premier floral events. Held in Golden Gate Park each spring, the event draws more than 40,000 people, and raises nearly a half million dollars. "This event is close to my heart," Mujica-Beavers says.
The spirit of generosity runs in her family. The daughter of a dedicated volunteer, Mujica-Beavers, whose own two grown daughters make time out of their busy careers to volunteer, somehow finds time "to help my friends who are involved in their own charities."
"I like to support them by going to their events, giving my time and financial support when I can," she says.