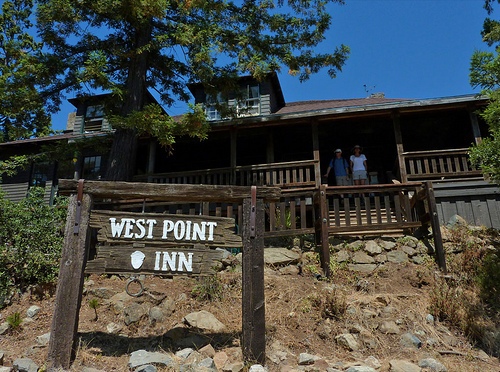 Three co-bidders; Aimee Brown, Rosemary Galloway, and Tyler Hofinga, and their group of lucky guests realized the dream of taking over Mt. Tam's historic and charming West Point Inn and its cabins for the night.
Secluded among the trees on the upper south slope of Mt. Tamalpais, the Inn was built in 1904 and was once a stopover for passengers who rode the "Crookedest Railroad in the World" up from Mill Valley to the top of the mountain. This rustic inn boasts panoramic views sweeping from the Sierra to the Pacific Ocean, to San Francisco and beyond.
Living the life of VIPs, the group started their stay relaxing with a glass of delicious Honig Wine and hors d'oeuvres in the fire warmed guest lounge while chef Jessie Boucher of Jessie et Laurent, the Bay Area's supreme in-home dining service, prepared and served a most memorable gourmet meal paired with more exquisite, award-winning wines from Honig Vineyard & Winery, presented and poured by Steven Honig!
Watching the sunset over the Pacific Ocean, the group shared stories and took in the breathtaking view from the comfy 'members only' parlor, then later played the piano, guitar, and sang into the wee hours of the morning before retiring to their cozy rooms and secluded cabins.
The next morning the group was treated to a scrumptious Jessie et Laurent breakfast watching the sun rise over our beloved Angel Island State Park. After breakfast, the group headed out for a memorable hike of Mt. Tam led by Bay Area Backroads and OpenRoad TV personality, Doug McConnell. And for this fortunate group, the weather was stunningly beautiful from start to finish!
The adventure was a memorable experience thanks to the support of AIC Board member and Development Committee Chair, Gail Dolton and her husband, Doug; AIC Operations Manager Jacquie Klose; the delicious gourmet dinner and breakfast, generously prepared and donated by Jessie Boucher of  Jessie et Laurent; the exquisite wine served and donated by Steven Honig of Honig Vineyard & Winery; and last, but certainly not least, many thanks to Bay Area Backroads and OpenRoad TV personality, Doug McConnell, for leading the group on a hike without equal!
This special overnight stay was won at last year's Angel Island Conservancy's 8th annual Angel Lights Countdown Benefit .  To experience an adventure like this and others, attend the Conservancy's  9th Annual Angel Lights Countdown Benefit (save the date – December 4th) where attendees can bid on rare, one-of-a-kind opportunities like this!
To receive email notices about upcoming events, sign up here!
---
Click on images below to see entire and larger version of photo
Return to top of page