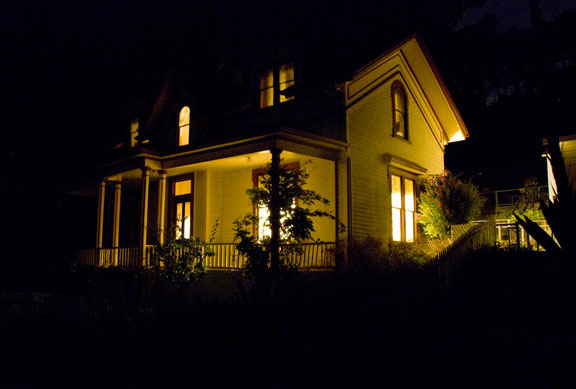 "Quarters 10," Camp Reynolds, Angel Island State Park
Fiesta, fireworks, and family, describe this year's exceptional Fourth of July celebration on Angel Island. Tim Schultz and Germaine Chee, the high bidders of the adventure won at Angel Island Conservancy's 8th Annual Angel Lights Countdown Benefit, brought their children and two nephews to share in this unique experience.
Not only did the group have the pleasure of an overnight stay at the historic "Quarters 10," the only restored Civil War-era officers' quarters on Angel Island, they also experienced a behind the scenes VIP island tour with Conservancy Board Member and AISP Docent, Linda Moore, then they prepared for the fireworks show by sipping margaritas and savoring exquisite Mexican cuisine prepared by Guaymas Restaurant of Tiburon.  Of Course, what fiesta would be complete without taking a swing at a piñata?! After destroying and collecting the candy from the piñata, our party bundled up and were driven to one of the best viewing spots on the island to enjoy the fireworks from Sausalito, San Francisco, and the East Bay. Following the grand (and foggy) show, guests retired to the comfort of cozy beds in the beautifully restored quarters at Camp Reynolds. The next morning the group enjoyed a scrumptious breakfast watching the sun rise over our beloved Angel Island State Park and then back to the mainland.
Special thanks to Maggie McDonogh, owner of  Angel Island – Tiburon Ferry for providing the group's passage to and from the island; to Guaymas for providing the delicious dinner; to Conservancy Board Member and AISP Docent, Linda Moore, for her tour of the island and all her help hosting the group; Conservancy Board Member Nina Mayerhofer for her assistance with preparing for the group's stay and the tasty quiches she baked for the breakfast; and Conservancy Operations Manager, Jacquie Klose who coordinated the adventure.
This unique experience was offered last year, at Angel Island Conservancy's 8th annual Angel Lights Countdown Benefit, where attendees bid on rare, one-of-a-kind adventures.  Experiences like this and others, will be offered again at the Conservancy's  9th Annual Angel Lights –  so save the date – December 4th!
To receive email notices about upcoming events, sign up here!
---
Click on images below to see entire and larger version of photo…
About Quarters 10, Camp Reynolds
With concern mounting over threats to the Bay Area from Confederate sympathizers and naval forces, the federal government established Camp Reynolds.
Officer's Quarters 10, was first built and lived in on Yerba Buena Island, then later disassembled, barged over to Angel Island and reassembled. It was restored to its former glory by Dr. Robert Noyes, and his wife Mary, who spent months living in a tent on the grounds until they could stay in the quarters while they continued to lovingly restore it. Following are views rarely seen by the public…