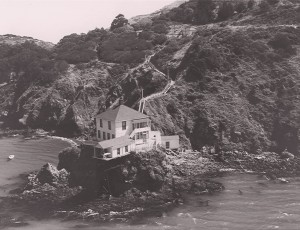 Point Knox Lighthouse was originally erected in 1886 as a single-story structure; a second story was added in 1915 by jacking up the first story and building a new story under it. The Coast Guard burned the building in 1963. circa 1920
---
When California first became a state in 1850, there were no lighthouses on its coast. The first lighthouse in San Francisco Bay went into service on Alcatraz in 1854, and eventually there would be no less than fourteen lighthouses on the bay; at one point three of them were on Angel Island.
The first "lighthouse" on the island was not a lighthouse at all – it was a manned fog bell which was mounted on Point Knox, on the southwest corner of the island. During periods of fog the bell was struck by clockwork machinery powered by a weight which was rewound every few hours by an attendant. The bell was kept in its own building, and the one attendant kept in a single-story frame house adjacent to the bell.
In 1915 a second lighthouse was added, this one on Point Stuart, another keeper was added as well. The single-story dwelling-lighthouse on Point Knox was too small for two attendants, so a second story was added, and it was done in a novel manner. Instead of adding a story to the top of the existing structure, as would be expected, the dwelling was raised, and a new ground floor was built underneath. The dwelling and the steps were showing their age when the Coast Guard made a decision to build modern facilities on Point Blunt, on the southeast corner of the island, near the site of old Camp Blunt. The new Point Blunt facility completed in 1960, did not have a lighthouse in the traditional manner. Instead, there was a light and a foghorn mounted on a low building, a watch structure, and quarters for four keepers.
The completion of the new station on Point Blunt gave Angel Island the unique distinction of being the only place in the United States to have three lighthouses.
---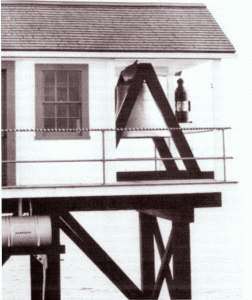 Point Knox Lighthouse, erected in 1886 as a single-story structure; a second story was added later by jacking up the first story and building a new story under it.
---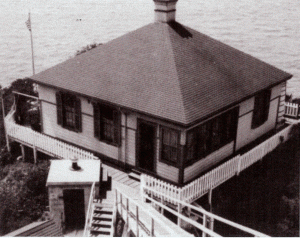 Point Knox Lighthouse – as a single-story structure.
---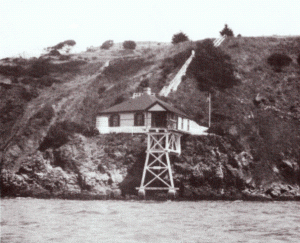 Point Knox Lighthouse – as a single-story structure.
---
Recommended Reading
Images of America; Angel Island
Miwoks to Missiles