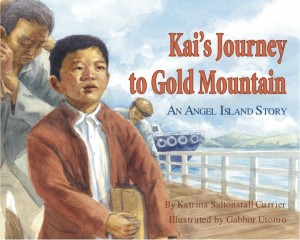 Kai's Journey To Gold Mountain: An Angel Island Story
Author: Katrina Saltonstall Currier
On his 12th birthday, Kai learns that he must leave his home in China and journey alone to Gold Mountain – America- to live with his father. The year is 1934, and the U.S. does not welcome Chinese immigrants. When Kai arrives he is detained on Angel Island in a crowded barracks, with harsh interrogations and the threat of being returned to China. Will Kai ever be free to join his father?
Paperback Version: $12  plus tax – shipping via USPS Media Mail
or
Hardback Version: $18 plus tax – shipping via USPS Media Mail
or