Author Lecture and Book Signing
August 20, 2016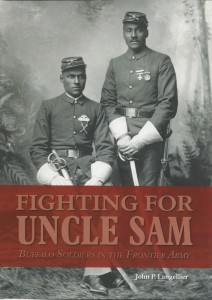 Did you know that Buffalo Soldiers served on Angel Island?  Come learn more about the Buffalo Soldiers and their contributions to the military as well as our communities.  Author John Langellier will be speaking about his book Fighting for Uncle Sam, including sharing stories about Colonel Allen Allensworth who served as the company Chaplain at Camp Reynolds during the American Civil War.  Come hear how this formerly enslaved person rose to a position of influence in the military and later founded the town of Allensworth, California.
The event will be held on Angel Island August 20th, 2016 from 1:00-2:30 at the Welcome Center.  There is no charge for the event, though guests will still need to purchase tickets to travel to the island.  Books will be available for sale at the event.
Beaches and Bay Life Hike
September 3, 2016
Join us and other friends of Angel Island Conservancy as we kick off Labor Day weekend with a fun and educational guided hike on Angel Island.  The theme is "Beaches and Bay Life". Come and learn about the flora and fauna that live in and near the water, and hear some fun stories about Angel Island beaches.  The event is free, though you will still need to purchase your ferry passage to and from the island.  Bring a picnic lunch and enjoy a fun day at the beach!  Space is limited.  To learn more click here. 
Saturday September 3, 2016

10:00am – 2:30pm