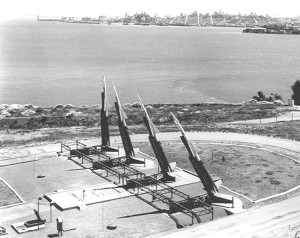 Shown in this 1958 photograph are four of the twelve missiles of D Battery, 9th AAA Missile Battalion, Angel Island. The missiles were stored underground, and were raised only for maintenance or firing. the site was razed when the missiles were removed from the island in 1962.

---
Distance from Ayala Cove: 1.75 miles
Estimated hiking time: 50 min
Estimated biking time: 35 min
Amenities
History
Eight years after Fort McDowell was closed, Army Engineers were once again constructing an artillery emplacement on Angel Island, for the third time in the island's history. This emplacement, however, was for a much different type of artillery than had been placed on the island by the engineers in 1864 and 1898. A Nike anti-aircraft missile site, one of eleven Nike batteries built in the Bay Area during the Cold War, was placed on the southeast corner of the island, just behind Point Blunt. The missile battery was manned by Battery D of the 9th Army Antiaircraft Artillery Regiment.
The battery had three launching sections, each one with four missiles launchers, and was armed with Nike-Ajax missiles, liquid-fueled missiles carrying TNT warheads, with a range of approximately 40 miles. Each launching section had an underground magazine that could hold up to a dozen missiles, which were raised to the surface by hydraulic elevators, then placed on the launchers. On top of Mount Ida (now known as Mt. Livermore) the highest point on the island, was flattened for radar equipment, an Integrated Fire Site was constructed, with three radars, two control vans, a generator building and a "ready room."
About 100 men were stationed on the island, with the enlisted men housed in the old Post Hospital of Fort McDowell. The missiles became obsolete in 1962, and the battery was abandoned. The closing of the missile site – one year short of a century after the 3rd Artillery established Camp Reynolds – marked the last time Angel Island would be used for military purposes. Even though the missiles have been removed, this area is off limits to visitors.

Recommended Reading