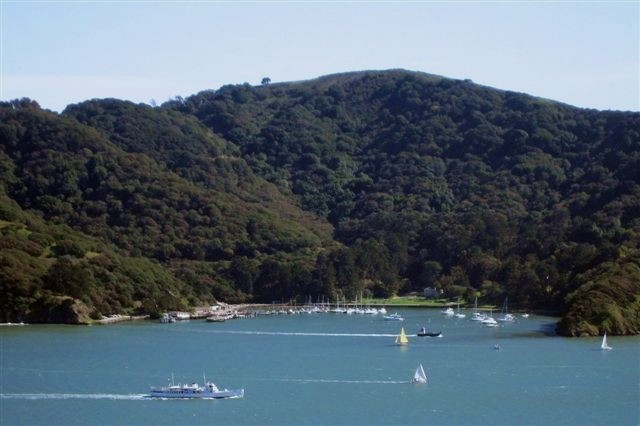 Amenities
Lockers (day use)
Picnic Tables and Charcoal Barbecues
Ranger's Kiosk
Restrooms
Vending Machine (beverages)
Water Fountains
Racoon Cove
In August of 1775, Lt. Juan Manuel de Ayala, a Spanish Naval officer, sailed the ship the San Carlos into San Francisco Bay and anchored into what is now know as Ayala Cove. The first Europeans to sail into the San Francisco Bay, Ayala and his crew spent forty days making a chart of the area. Following a practice then common among Catholic explorers naming sites for the religious feast days nearest to the time of discovery, Father Vicente, the chaplain of the San Carlos, christened the little island Isla de Los Angeles.
The next recorded European visitors to the cove were in 1814 when a British 26-gun sloop-of-war, HMS Racoon, anchored in the cove to make repairs. HMS Racoon gave her name to Raccoon Strait (the reason Raccoon Strait was originally spelled with only one "c") and the cove, then known as "Racoon Cove".

Hospital Cove
The big change in the cove came in 1889, when the War Department transferred ten acres to the Treasury Department to be used by the Marine Hospital Service for a Quarantine Station. At the time, San Francisco's facilities for handling cases of contagious diseases on incoming ships were very inadequate.  Ships needed to be fumigated to kill the rats they carried, since they carried bubonic plague and the passengers, their clothing and baggage were all disinfected as well.  Opened in 1891, any ship coming into San Francisco Bay that was known, or suspected, to have contagious diseases aboard was diverted to the Quarantine Station located in "Hospital Cove".
As the years passed, the use of the Quarantine Station diminished. Better quality medical examinations were made at ports of embarkation and improved medical practices made lengthy quarantine unnecessary. Being an island isolated from the mainland made the station inconvenient and expensive to maintain. It was abandoned when the U.S. Public Health Service moved its headquarters to San Francisco.
In 1946 the Station was declared surplus, and all functions were moved to San Francisco.  In 1957, three years after the cove became a State Park,  all but four of the Quarantine Station's forty-odd buildings were razed. Those remaining include the former Bachelor Officer's Quarters (now the Park Visitor Center) and several employee residences, which are used by State Park staff.  The huge metal disinfecting cylinders were removed, and the Station grounds bulldozed.

Ayala Cove
In 1954 a number of citizen's groups managed to persuade the California State Park Commission to obtain 36.82 acres surrounding Hospital Cove for a State Park. The federal government had already declared the island surplus property, and in 1958 even more acreage was acquired by the State. In December 1963, the entire island was turned over to the State. On September 6th, 1969 Hospital Cove was renamed "Ayala Cove" in honor of the Spanish lieutenant who charted it.

Recommended Reading
Images of America; Angel Island
Miwoks to Missiles