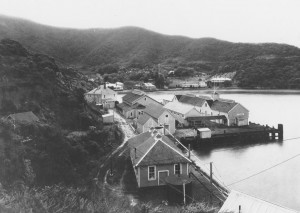 View looking across Hospital Cove (aka Ayala Cove), Quarantine Station circa 1920. Only four buidlings remain of the more than fifty shown here. Photo courtesy National Archives
---
In 1891, a Quarantine Station was opened at Ayala Cove (then known as Hospital Cove), where ships from foreign ports could be fumigated, and immigrants suspected of carrying diseases could be kept in isolation. Obtained from the Navy in 1892, the decommissioned, ALGOMA-class wooden screw sloop USS Omaha and its boilers were used to supply superheated steam for fumigation. Her masts cropped and a large covered structure was added to her deck to house diseased immigrants and sailors. The 40 buildings at the cove included a 400-bed detention barracks, a disinfection plant, laboratories, and quarters for staff.
The first ship to have her passengers quarantined on the island was the steamship China on April 27, 1891: there was smallpox on board. When the passengers reached the station, they were checked by a doctor, then bathed with carbolic soap, and donned overalls furnished by the attendants. Their clothing and baggage were sent through large metal cylinders where it was disinfected with live steam under pressure. The passengers were then assigned to barracks for a fourteen-day quarantine. Their barracks were fumigated with sulfur dioxide and flushed with salt water every morning. Ships were fumigated with live steam; later such chemicals as cyanide and burning sulfur were used.
As years passed, use of Quarantine Stations diminished. Better medical examinations were made at ports of embarkation, and improved medical practices made lengthy quarantines unnecessary. Being an island isolated from the mainland made the station inconvenient and expensive to maintain. It was abandoned when the U.S. Public Health Service, which succeeded the old U.S. Marine Health Service, and moved to San Francisco.
In 1946 the Station was declared surplus, and all functions were moved to San Francisco. In 1957, three years after the cove became a State Park, all but four of the Quarantine Station's forty-odd buildings were razed. Those remaining include the former Bachelor Officer's Quarters (now the Park Visitor Center) and several employee residences, which are used by State Park staff. The huge metal disinfecting cylinders were removed, and the Station grounds bulldozed.  Today little evidence remains of the sixty-five years of public service provided by the Angel Island Quarantine Station.
---
Photos courtesy National Maritime Museum.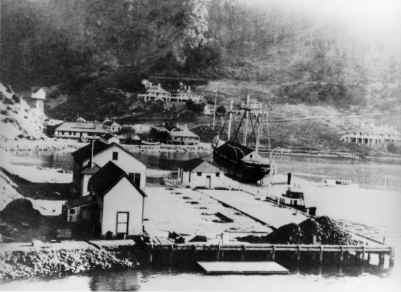 Hospital Cove (aka Ayala Cove), Quarantine Station. Note the Surgeon's and Pharmacist houses pictured in the background. Two of these houses are in use today as quarters for Park Staff.
---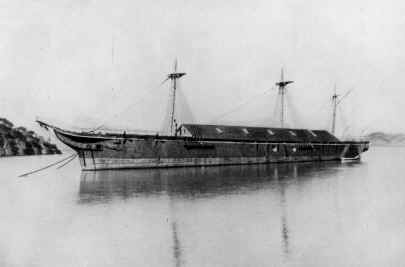 The warship USS Omaha anchored in Hospital Cove, 1896. Obtained from the Navy in 1892, its boilers were used to supply superheated steam for fumigation of infected ships and passengers belongings.
---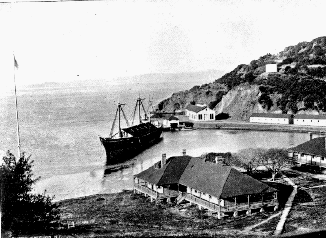 1894: Omaha in Hospital Cove with dorms for the quarantined pictured in the foreground.
---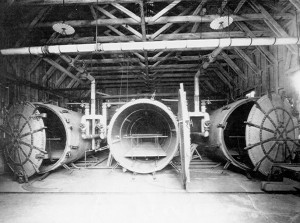 The disinfecting tubes. Called "the largest apparatus ever built," these tubes were 40 feet long and 7 feet in diameter, and weighed 33 tons apiece. Items to be disinfected were placed on carts and pulled into the tubes on rails. Live steam, fomaldehyde and ammonia were used as disinfectants. Circa 1900
---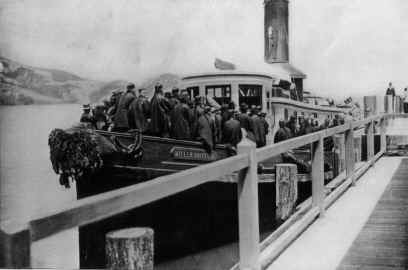 Asian immigrants arriving at the Quarantine Station dock in 1896, prior to being quarantined. Immigrants suspected of harboring infectious diseases were taken from ships and brought directly to the station, were they were disinfected and quarantined for 14 days.
---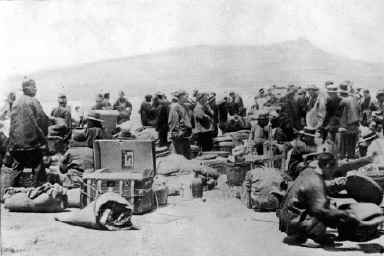 Passengers preparing for disinfectin. A group of immigrants in quarantine are shown preparing their baggage for disinfection on the wharf at the Quarantine Station. Persons in quarantine were required to have all clothing and baggage disinfected. Tiburon peninsula in the background.
---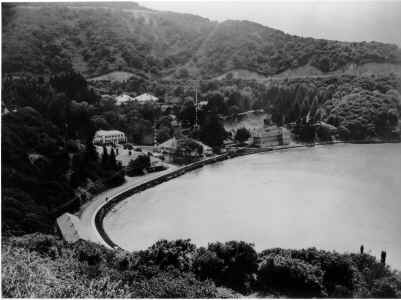 Hospital Cove in more modern times, prior to removal of dormitories.

Recommended Reading
Images of America; Angel Island
Miwoks to Missiles